March news from MEPAC SK s.r.o.
Early diagnosis prevents production losses
To have the molds in the perfect fit condition is the goal of every manufacturing company. All of us know that preventive maintenance is needed and eliminates future production losses. However, it sometimes happens that the company's internal tool shop does not catch preventive maintenance for various reasons, and the molds are waiting for their "preventive", which can cause considerable problems in further production. Since "helping you" is not just a simple phrase, but mainly action and we know that by early diagnosis our customer will avoid production losses, we have set up a new process of mold diagnosis. In practice, this means that every mold we servicing (repair, maintenance, etc.) we perform a free mold diagnosis. The output of this diagnosis will also show you all possible problems that may occur in the future on the mold.
Collaborative robots in action
Last month, as part of our first "OPEN HOUSE" at our headquarters in Trinec, we showed to our customers how to solve 3D scanning for the purposes of reverse engineering and parts quality control. Very positive feedback from our customer was for our solution 3DRO, where we demonstrated automated 3D scanning using ELFIN E-10 collaborative robot.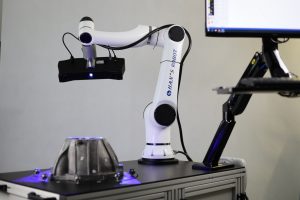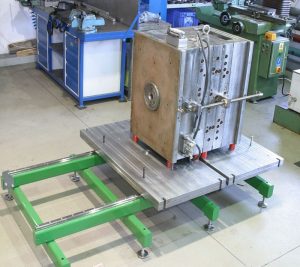 The useful tool from MEPAC 
Our own development is always full of ideas and improvements to make our work easier for our customers. The mold opening system belongs to the product family of unique mobile systems that make work easier, save time for your employees, and increase handling safety. The system can be used for repair, maintenance, cleaning, preparation and assembly of molds. Variants of systems with a maximum mold capacity of up to 3,000 kg, 5,000 kg and 10,000 kg will find application in many internal tool shops.