January news from MEPAC SK, s.r.o.
PF 2020
Dear valued customer,
we would like to thank you for the cooperation in 2019 and we wish you good health, lot of success in your working and private life. We`re thankful for that in 2019 we realized in our tool shop 50 moulds per week in average and through our sales division we sold over 17,000 pieces of tools and instruments.
 
Your MEPAC Team
Stan`s new love 🙂
Stano is in our team for eight years and "toys" such the cutting laser he really like. He consistently takes over every project of the new equipment from the beginning to the end. This was exactly happened just before Christmas. We decided to expand our portfolio of services with the new cutting laser CMA1310C-G-A from the MEPAC CZ, s.r.o. production. CMA1310C belongs to the top between cutting lasers on the market. This cutting laser can make a perfectly beautiful, smooth and shiny cut even at a minimum thickness of 0,1 mm. This cutting gap allows you to cut very detailed parts into different materials. This opens up large possibilities of usage of the cutting laser, such as the production of spacers for staple tools, or molds for plastic injection. Usage of spacers is also great by the setup of the location in Robotisation, precision engineering, but also in other sectors.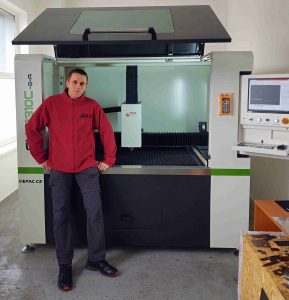 Did you forgotten to change date stamps on molds? 
End of the Year? ….. We know it`s a pure chaos:-). Everything needs to be completed and sometimes people forget for a little thing that to change date stamps for valid Year. Don`t worry, we`re here and if you still have any mold, where you need to change  the date stamp please feel free to contact us. In many cases we can also do these  services directly in your company.